The takeaway food market has been booming in the UK over the past decade and is one of the few business success stories during the COVID-19 lockdown. Try a Printed Reusable Takeaway Bag printed with your business logo to promote your brand. Find out more about sustainable, reusable bags made from 100% recyclable non-woven pp.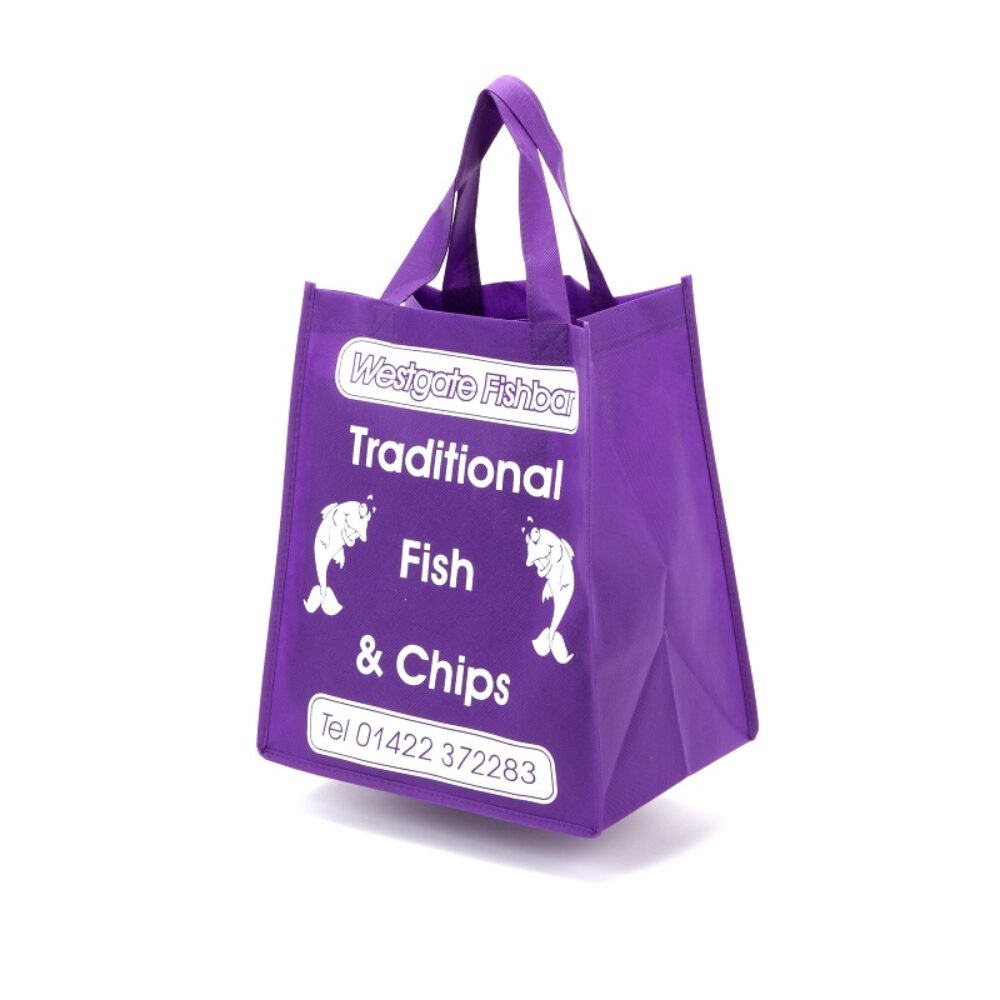 The takeaway food & drink delivery business is one of the fastest growing markets in the UK and has grown by 73% over the last decade and is worth £4.2 billion. It has defied economic conditions and the drop in consumer spending as people see it as an affordable luxury that's cheaper than eating out in a restaurant. A takeaway has always been a popular choice for a cheap night in with friends and family, but has now become an essential service during the COVID-19 lockdown.
We love the convenience of delivery and the growth of apps like Just Eat, Deliveroo and Uber Eats have made it easier for local takeaways to get orders. They also provide a valuable platform for takeaway business owners to market their brand and collect data about their customers.
This has given takeaways a great sales opportunity but there is much more they can do to promote their business and increase brand recall. Once people have found you via the apps they may come back to you direct. Do what you can to make a great first impression so they'll remember you.
One way to make an impression is to be a sustainable, eco-friendly business. It's a great brand message and shows your brand in a positive light.
Takeaway is great but potentially can led to a lot of waste. Single use takeaway packaging and plastic cutlery is bad news for the environment, as are the plastic bags they are delivered in. Show your customers that you are doing all you can to reduce waste and be a sustainable business.
Shout about Sustainability
Consumers are increasingly aware of environmental issues and many will choose a takeaway brand that cares about these issues too. Green credentials will differentiate your brand from all the other takeaway services competing for attention, and provide some added value for customers.
Let everyone know how your takeaway business is aiming for sustainability. Use marketing materials to convey the following information:
How is your takeaway service aiming to reduce, reuse and recycle waste?
What are you doing to cut food waste? Do you compost or donate leftovers to a local charity?
Are you sourcing food from local, sustainable suppliers?
Do you use seasonal produce?
Are your food packaging and carrier bags reusable or single-use? If single-use, can you switch to biodegradable or reusable alternatives?
Involve Customers in Green Campaigns
As well as practicing sustainable habits, get your customers involved too. Set up schemes to encourage them to reuse, or return and recycle food packaging. Customers that pick up in-store could also bring their own containers from home. Offer them an incentive like a loyalty card and stamp it each time they bring their own reusable container. Fill up the card and get a free drink, desert or meal as a reward.

Takeaways should also be looking to switch away from single-use plastic bags. They are bad for the environment and should be used as little as possible. Takeaways in Scotland, Northern Ireland and Wales already have to charge a bag tax for each single-use bags used. It's expected that customers in England will be subject to this charge when the Bag Charge is extended in 2021.
Give away a reusable bag as part of the customer experience. Everyone loves a freebie so run a campaign giving them as a free gift for orders over a certain spend. Your customer will be happy with their gift and when they reuse it, they'll be promoting your business locally!
To avoid regular customers receiving a reusable bag each time encourage them to swap the old one for the new one on delivery. Extend the loyalty card scheme so that customers get a stamp each time they swap reusable bags on delivery, or use their bag for picking up their food in-store. Each time they use the takeaway bag instead of a plastic bag they'll be rewarded for thinking of the environment.
Don't forget to pop marketing materials like leaflets, menus and coupons in the bag when you make a delivery so people have it to hand next time they want to order takeaway.

It's not just reusable bags you should be using for sustainable promotions. Consider printing leaflets on recycled or seeded paper and purchase your promotional products from an eco-friendly promotional product supplier.

We hope that you've found some useful ideas here to promote your takeaway brand sustainably. Don't forget to communicate these strategies to your customers to get them involved. More of us are actively trying to live sustainably, so it's a great brand value to have!

---
Browse our Range of Reusable Takeaway Bags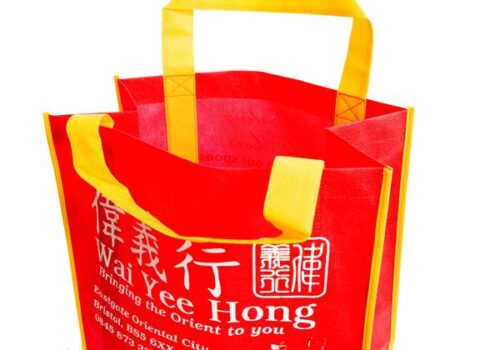 All of our reusable takeaway bags are fully washable, making them a hygienic choice. Non-woven pp fabrics are durable so that bags can be reused again and again over a number of years.

Print with your website details and help customers to find you!
Non-Woven Reusable Bags for Takeaway Services
Smartbags can create Reusable Bags in any style, shape or size. Non-woven PP is our most popular fabric as it's economical and long-lasting. 100% print coverage available. If you don't see the exact bag you require, get in touch with your bespoke specifications so that we can provide a quote.