Our range of Recycled Shopping Bags is made from 70% recycled material. These eco-friendly promotional bags are ideal for supermarkets, retailers and delivery services. Perfect for any business that cares about sustainability and its impact on the environment. 100% print coverage available.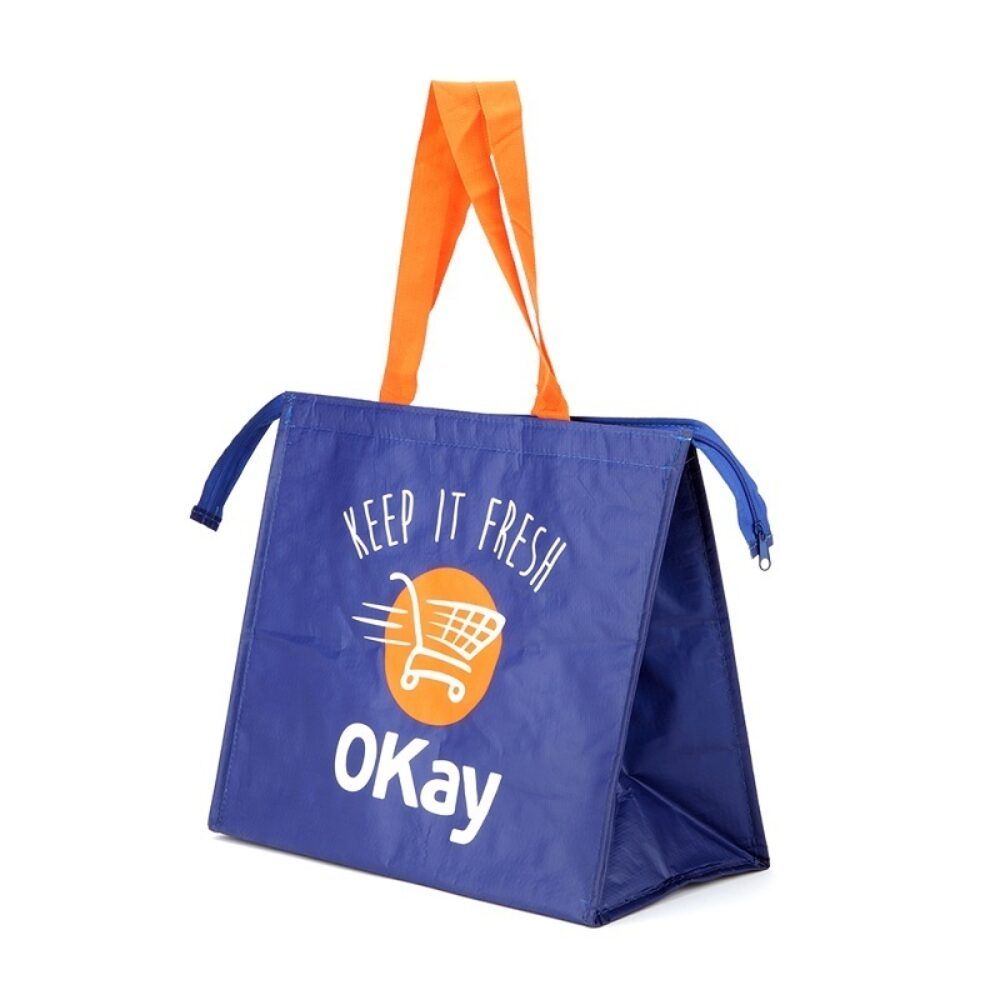 Are you looking for an eco-friendly branded Bag for Life for your business? Then check out our stylish range of recycled promotional bags made from Laminated Woven Polypropylene made from 70% recycled content.
Ideal for supermarkets, retailers, event organisers and sustainable brands, these bags are a practical, branded product that your customers will love and can be reused again and again for shopping trips, picnics, days out and more. Each time it's reused it'll spread your brand message to everyone that sees it.
This is just one reason why a promotional shopping bag is a great choice for retail marketers. Read on to find out why choosing Smartbags Laminated Woven Recycled Bags for Life has many other benefits for your business branding:

4 Benefits of Recycled Promotional Bag

1. Eco-friendly & Sustainable
The 3 R's - reduce, reuse and recycle should be the mantra of any business that is looking to be more sustainable. Read more about this in our blog, How to Make Your Business More Sustainable. These branded bags will help your business to improve sustainability.
Recycled Woven PP is made by taking old plastic & PP scraps (mainly from old rice sacks) and recycling them into new PP granules. The granules are then melted down and transformed into the recycled material which is then weaved into sheets of woven PP, which is then used to create recycled shopping bags for life.
2. Strong & Durable
Recycled Woven PP is a tough material! It's ideal for heavy-duty shopping bags which carry heavy loads of groceries and other big and bulky products. It won't tear or break, meaning a promotional bag for could last for several years.
We laminate our recycled woven bags - this shiny layer helps to keep the bags waterproof and easier to wipe clean. It also adds extra strength and durability.

3. Large Print Area for Branding
Laminated Woven PP is a great fabric to print on allowing your business to broadcast marketing messages with high-quality design and print finish. It's really suited to graphic and digitally produced artwork so go wild with full-colour print with 100% print coverage!

4. Economical & Budget Friendly
As these bags are made from recycled content, they cost approximately 30% less than our normal range of laminated woven bags. However, they do have a larger minimum order quantity so are best suited to large orders of 5000 units +. The more you order, the cheaper the unit price for each recycled bag is making them a perfect choice for large wholesale orders.
You can also save on delivery costs if you allow up to 12-14 weeks for Economy Delivery. We do offer a 6-8 week Express Service, but it will cost a little more.
And as these branded bags for life are so long-lasting you get more for your marketing budget as the bags will still be working their promotional magic years later!




---
Introducing Our Range of Recycled Shopping Bags
Smartbags are a supplier of bespoke promotional bags and we can create these eco-friendly recycled shopping bags in any size, shape or style. Just get in touch with your personal requirements for a custom quote.
Minimum order of 5,000 units. Customise with 100% full-colour print coverage, material thickness, bag handles and more!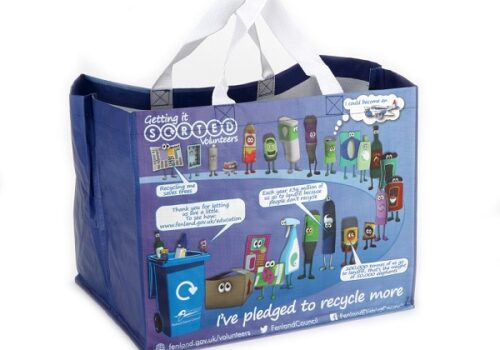 Recycled Shopping Bag for Life
Durable and strong, this Shopping Bag for Life is a practical promotional product that will be reused many times - getting your brand seen time and time again
Bag Size: [H] 40cm x [W] 44.5cm x [D] 21cm


Medium Recycled Tote Bag
Medium landscape recycled tote bag with a handy depth that fits a shoebox. Ideal for use as a smaller multi-purpose shopping bag

Bag Size: [H] 40cm x [W] 44.5cm x [D] 21cm