Frobishers chose one of Smartbags made-to-order Non-woven PP bottle bags as a practical event bag for their stand at the BBC Good Food Show. The show is all about cooking inspiration, tasting and browsing lots of lovely food and drink stalls. It's the ultimate foodie day out and is so popular that there are several shows throughout the year in various locations.
Frobishers create a range of delicious drinks including juices, cordials, presses and fusions made from fruit and other natural ingredients. They needed an event bag and decided to choose a bag with a practical use - the bottle bag.
Why Choose Custom Bottle Bags for Food Events?
As they were selling their bottled drinks to consumers throughout the show, they needed something that was both practical and could be used by those customers to carry their drinks home but also would promote their presence at the show. The Frobisher-branded bottle bags certainly helped them achieve this objective!
Both the bottle bags and Frobishers drinks were a huge hit at the show - with each sale, buyers get a free gift to take home and everyone loves a freebie! And not only does the event bag promote a business's presence at the show, but also continues to promote its brand name long after the show is over.
With Summer on the horizon, the bottle bag can be reused for days out, picnics, festivals, outdoor events and more! Every time it's reused, the wearer acts like a walking brand ambassador - building brand awareness everywhere they go!

Now Starring in a Campaign to Mark King Charles III Coronation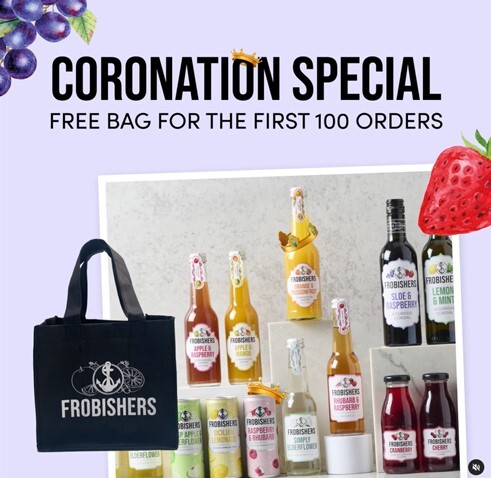 Now the food show is over, Frobishers started using their branded bags as part of a social media campaign. As a Coronation special they are giving away a free bottle bag with their first 100 orders. This is a great way to create a buzz about your brand on social media (and create 100 more walking ads!).
Check out the Frobishers Instagram post
Customised Reusable Bottle Bags
Here at Smartbags, we specialise in creating custom-made bespoke reusable bags. We have design extras and add-ons to make your bag stronger and more durable, including:
internal folding dividers
handles stitched to the base
hard PP base
100% print coverage is possible on all bottle bags. We are so pleased to have helped Frobishers create an event bag that's as individual as their drinks!
Learn more about Frobishers
To find out more about Frobishers drinks brand and their individual products, visit www.frobishers.com. They sell their drinks online, so if you want to learn more and give them a taste, do visit their website.