When choosing the right fabric for a custom Bag For Life, you'll consider brand values, function and purpose of the promotional bag. Sustainabilty, budget and proposed bag design will also play a part in your final decision.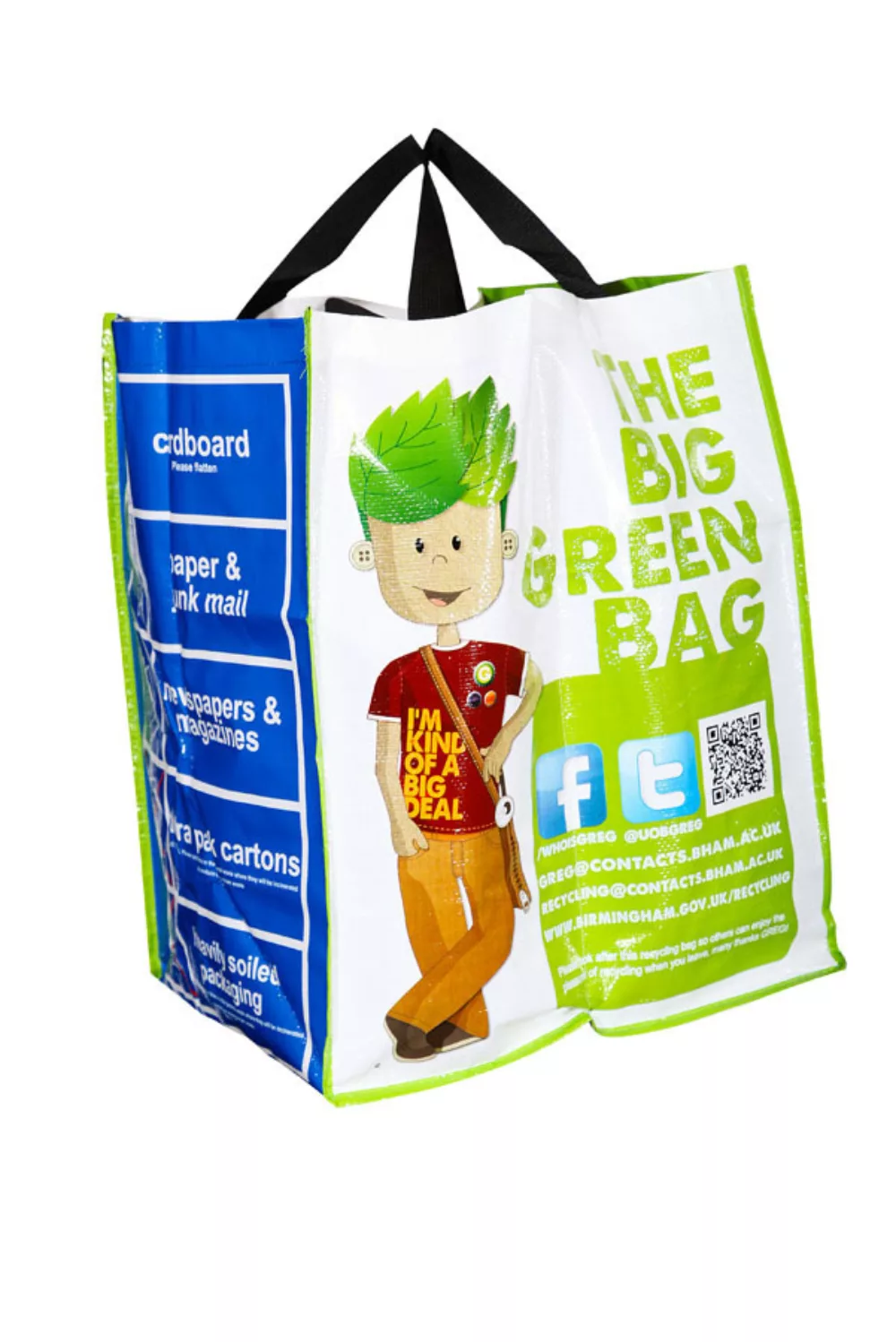 There are many factors to consider when choosing a fabric for a branded Bag for Life for your business. The choice of material can be a statement in itself as not all Bag for Life fabrics are equally environmentally-friendly.
Consumers are much more aware of the problems of plastic pollution and want to make sustainable choices and reduce their ecological footprint. There is a lot of information on the environmental damage done by single-use plastic bags. Here at Smartbags, we specialise in Laminated Woven Polypropylene Bags for Life. Get the low-down on its sustainability credentials:

What is Woven PP?
WPP is commonly used in the Heavy Duty Bags /Bags for Life that are sold in supermarkets and stores like Sports Direct and IKEA.
Strips of NWPP are taken and woven to create a strong, durable material that's flexible and strong. Woven PP is Ideal for heavy-duty bags carrying bulky and heavy goods. Long-lasting and can be reused time and time again - these tough bags should last for years!

Is Woven PP an Eco-Friendly fabric?

As a reusable material, a Bag for Life made from Woven PP helps to reduce waste and encourages movement away from single-use plastic products. Since introducing the Bag Tax in the UK, the number of plastic bags taken at supermarkets dramatically reduced from 140 carrier bags per person in 2014 down to just 19 carrier bags each in 2017-8!

A Woven PP bag lasts much longer than a Natural Cotton bag which can easily rip or tear. Most of us would guess that natural products like cotton are more sustainable. However, cotton production is an extremely polluting industry that uses unsustainable resources, lots of chemical processes and water.
The more uses you get from a Bag for Life, the more eco-friendly it is! In a study from the Danish Government, it was discovered that a Woven PP reusable bag needs to be reused 45 times to have the same environmental impact as a single-use plastic bag. Compare this to an organic cotton tote bag, that needs to be reused 20,000 times to have the same impact! This shows that "natural" doesn't always mean eco-friendly.


What Promotional Bag Styles can be made from Woven PP?
Laminated Woven PP is most commonly used for branded Heavy Duty Shopping Bags and Bags for Life sold in most major supermarkets. Bags are laminated to increase durability, hygiene and strength. It's the ideal material for:
• Dry Cleaning Collection & Storage Bags



Design Features
WPP is a very versatile material that allows for a number of eye-catching design features to be incorporated into a reusable bag. These include webbing, rope or cord handles, metal eyelets, name card holders, poppers, Velcro tabs, zips and hard bases.
Download our Handy Guide to Reusable Bag Features

Recommend Print Techniques for a Woven PP Bag for Life
Woven PP is a great fabric to print on. Get your marketing messages across clearly with high-quality design and print. Full-colour printing is highly recommended, particularly as laminated woven PP fabric is best suited to graphic and digitally created artwork.
Woven PP is perfect for 100% print coverage and there is no limit to the creativity possible!
Download our Info Sheet on Print Techniques
Benefits of a Non-Woven PP Reusable Bag
100% Reusable
Durable
Wipe-Clean
Waterproof
More sustainable that Cotton
Economical prices

---
Browse Woven Bags for Life
We stock regular Woven PP Bags as well as Woven PP Bags made from 70% recycled content. Get in touch with us today for a personalised quote.