Printed recycling bags provide an ideal way for waste management teams & local authorities to raise awareness and boost recycling rates. Commonly used by local authorities and waste management teams, they are also being used by universities looking to encourage students to recycle.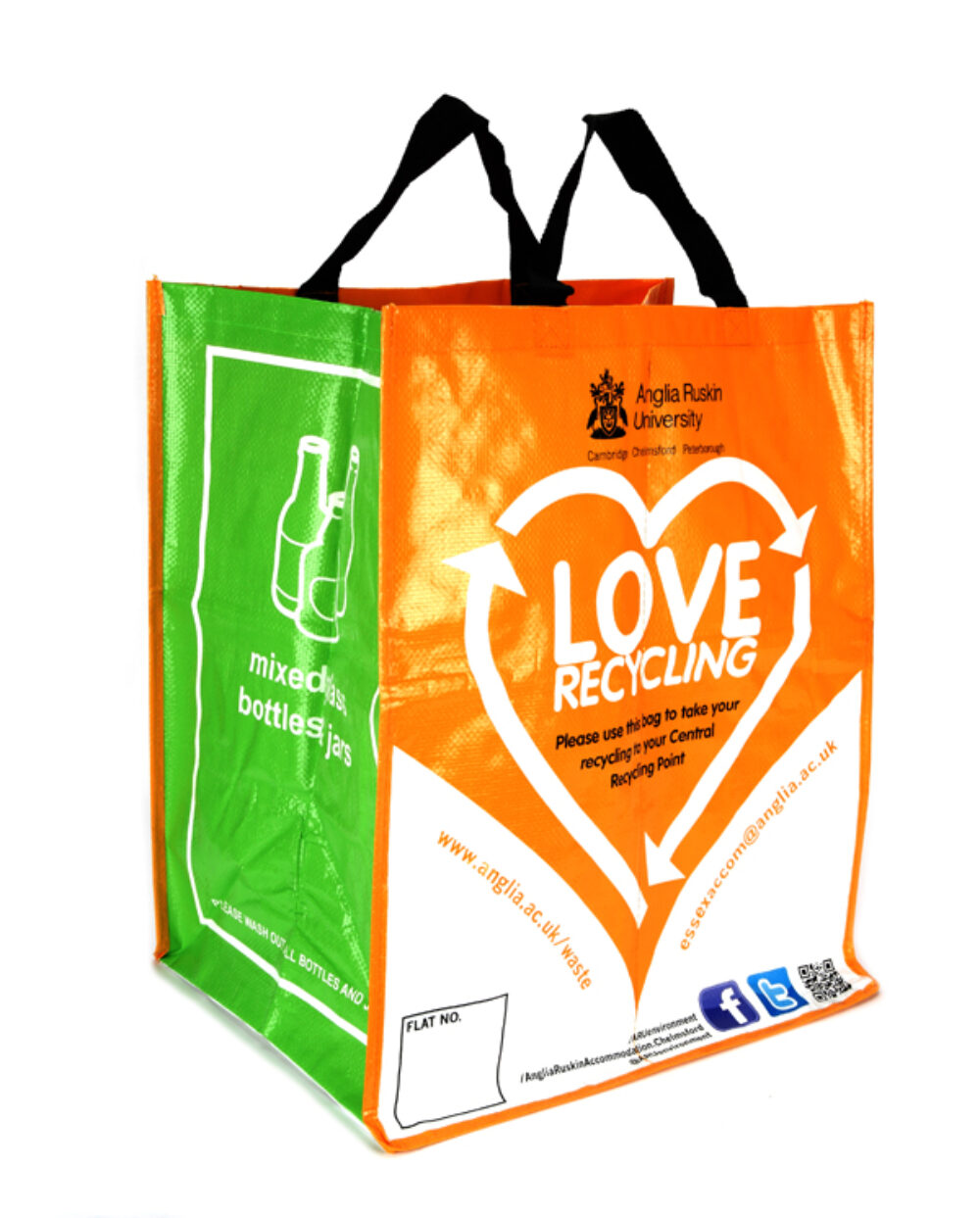 Printed reusable recycling bags are used by councils and waste management services as a cheaper, convenient alternative to recycling bins. They're great to print on and provide a big blank canvas for branding and details of local recycling initiatives and practical information on how to recycle waste. Reusable recycling bags will encourage awareness and boost recycling rates.
These heavy-duty bags (made from Laminated Woven PP) are large and super-strong. Perfect for collecting all kinds of household waste such as bottles, tin cans, paper and plastic. They can also store bulky garden waste with ease.
There are many other good reasons to choose reusable recycling bags for your business or organisation, so what are the main benefits?
The Benefits of Reusable Recycling Bags
Reusable bags make it easier and more pleasant for households to recycle. Choose bags with velcro lids and tipping handles that are easy to use and make perfect containers for recycling waste.

Heavy-duty bags are an economical choice as they are much cheaper than recycling bins and with the added bonus of being easier to store.

Made from Laminated Woven PP these bags are waterproof and durable. Just wipe clean - they should last for many years. For larger orders, we can also create Recycling Bags made from Laminated Woven PP with 70% recycled content to boost your green credentials.
Reusable Recycling Bags can be fully personalised and branded with 100% full-colour print coverage. Customise with internal dividers, weighted base to stop it flying away, lids, and both external and internal lamination. You can also add a panel for house numbers to be written on.

Heavy-duty recycling bags are available in a range of sizes from 32 litre to 70-litre capacity. We can create recycling bags in any size you need.
Minimum order of 1000 units only.



Recycling Bags - Not Just For Councils & Waste Management Companies!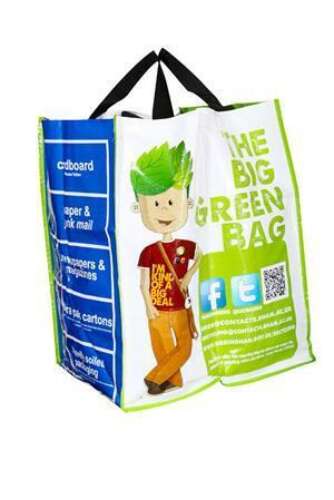 Most households are familiar with the branded recycling bags being used by local authorities to collect household recycling. But schools, colleges and universities also recognise the benefits.
Birmingham University used Printed Recycling Bags to encourage students to recycle. They created the GREG campaign and placed printed recycling bags in student accommodation to make it easy for students to recycle waste glass, paper, tins and cardboard.
By adding their social media details with a QR code, students can engage with the campaign online and show off their recycling efforts with photos and the recycling team can relay information. Read more by clicking on the link below.
Reusable recycling bags are a great environmentally-friendly choice. We all need to reduce, reuse and recycle and these bags will help to make that just a little bit easier.


---
Read more on Recycling & Sustainability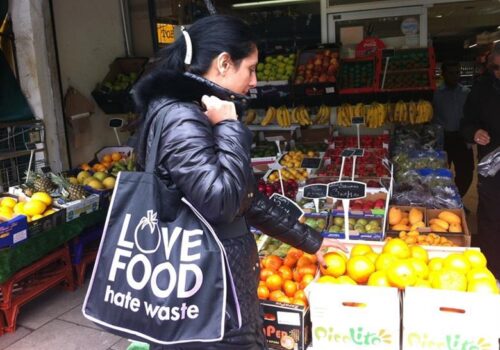 Learn more about Recycling Bags & Sustainable Marketing from our blogs and case studies. Follow the links below for more information:

---
Get a Quote for Printed Reusable Recycling Bags
As a rough price guide - 1000 pieces works out at approximately £1.70 per bag whilst 10,000 pieces is around 60p per bag.
Prices vary depending on what material and bag size is required. Prices are based on economy delivery times of 10-12 weeks. Browse our product range using the link below, click on the products you're interested in and request a quote. We'll be back in touch by the next business day.